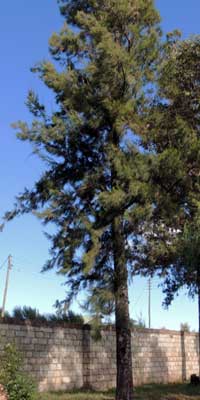 Habit of tree growing in a farming area near Eldoret, Kenya.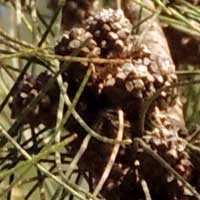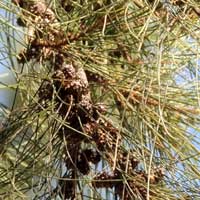 Dense clusters of cone-like fruit, each about 8mm dia.
LEAVES: The leaves are minute and appear scale-like along long slender green twigs. These fine, photosynthetic twigs give the pine-like appearance to this flowering plant.

TREE: Non-native tree planted widely in highland areas including in plantations and along rivers for erosion control.

FLOWERS: The flowers are small and without showy petals. Many in compact, pendulous spikes appearing like catkins. The male and female flowers appear on separate spikes.

RANGE: This is an invasive, non-native tree. Central Highlands and also in the Rift Valley highlands.

FRUIT: The fruits are clustered into oval woody catkins, about 1 cm in dimeter, considerably smaller than C. equisetifolia. The hard scale-like bracts give the appearance of a pine cone.

UNARMED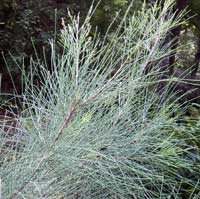 A similar species, Coastal She-Oak, is abundant in the coastal area along the Indian Ocean. Follow the thumb image link for more detail.
Casuarinaceae -- She-Oak Family
More Information: