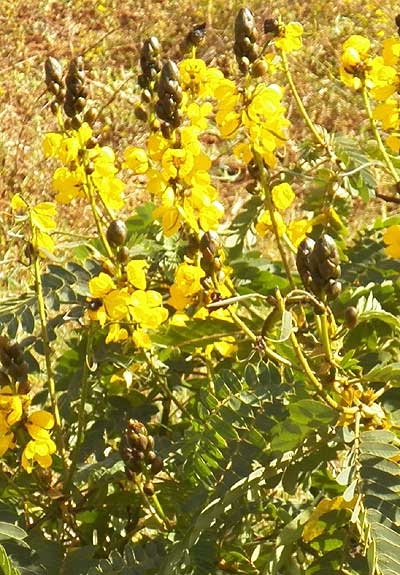 Observed at the perimeter of pastureland near Eldoret, Kenya. January 2012.
FLOWERS: The spikes of bright yellow and brown pea-flowers at roadsides are conspicuous. Flower buds are brown-purple before opening.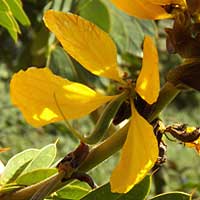 SHRUB: The upper parts of the plant are herbaceous supported by woody stems below. Most plant are one to two meters tall.

LEAVES: Leaves are compound, smooth, and bright green. Each leaf has a dozen or more pairs of oblong-elyptic leaflets, plus a pair of stipules at the base of the petiole. When crushed or rubbed the leaves emit a strong, disagreeable odor. For some this odor suggests another common name, Peanut Butter Senna.

RANGE: This native plant is most abundant in agricultural areas because of disturbed soil and because grazing animals tend to avoid it.

FRUIT: An erect, flattened bean pod with many seeds.

UNARMED. No thorns.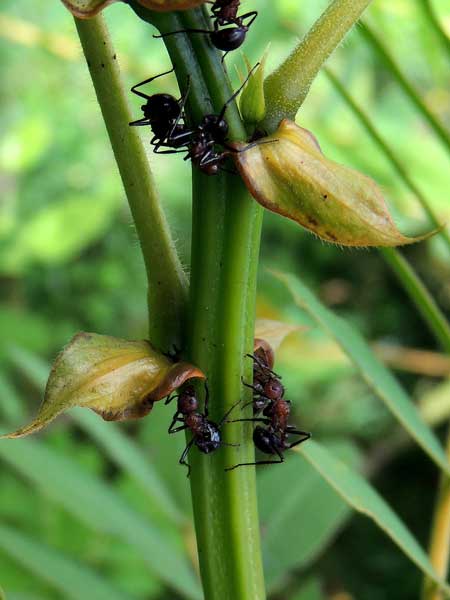 This enlarged view shows the leaf bases and stem of a plant found near Iten, Kenya, July 2014. The large dark green stipules clasp the stem but also have glandular tissue (extra-floral nectaries) that secretes a sugary substance that is highly attractive to ants. In this case the ants belong to the Myrmicinae subfamily. These ants repel other insects that migh damage the plant and can sting animals that might browse the already distasteful foliage. The ants and the plant have a survival alliance!
Fabaceae -- Bean Family -- Caesalpinioideae - Senna Sub-Family
More Information: