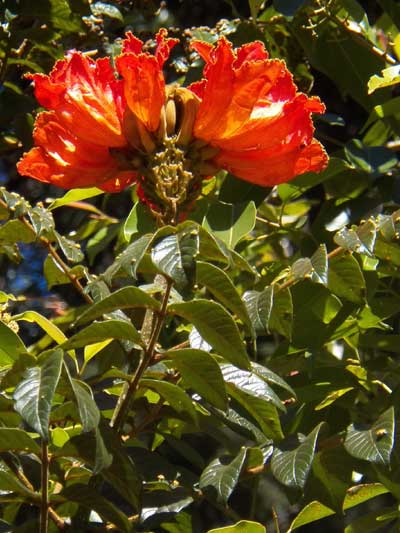 Observed blooming at Eldoret, Kenya, Africa. January 2012.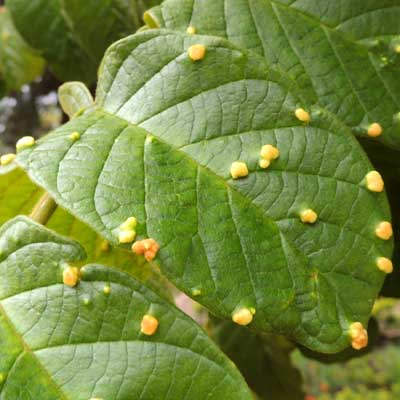 These colorful blisters on a leaflet of Nandi Flame are the result of nearly microscopic mites feeding from the underside. A species of gall mite, Colomerus (Eriophyes) spathodeae was described by Carmona (1967) and this could be the same or similar. Observed in Nairobi, Kenya, Africa. March 2013.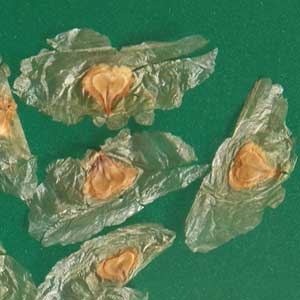 TREE. Nandi Flame grows to be a large tree up to 25 meters with a broad crown.

FLOWERS: The large showy flowers are slightly two-lipped and appear together in big clusters with several blooms opening at the same time.

LEAVES: The large, pinnately compound leaves are dark green on the top surface and lighter below. Leaves opposite on the stems.

FRUIT: Large, (75cm) elyptial pods are held erect. They are packed with winged seeds that are readily dispersed by wind.

RANGE: Native to highland areas of the Rift Valley, but now widely cultivated throughout Kenya and the tropics around the world.

UNARMED
Bignoniaceae -- Trumpet Vine Family
More Information: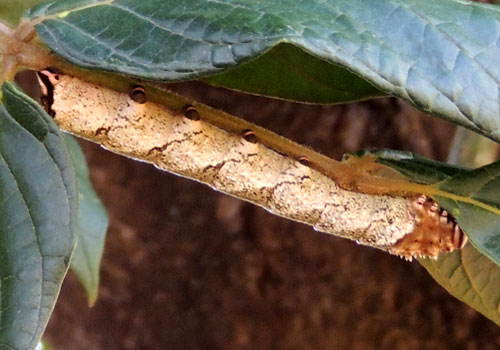 This moth larva was found on foliage of S. campanulata
and I believe it is a species of Sphingidae. Goal would be to collect
a larva and rear it through pupa and adult.
Observed at Tambach, Kenya. Dec. 2012.