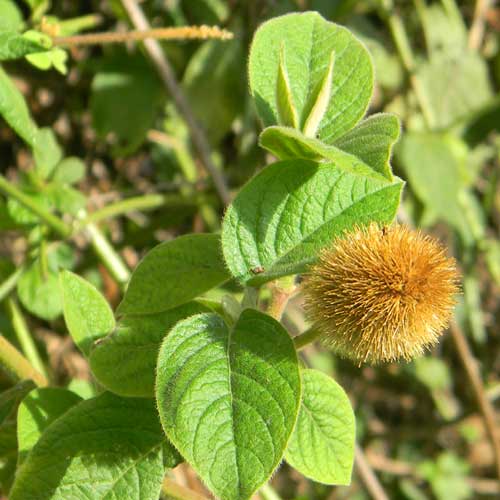 Herbaceous plant forming a thicket while scrambling of other plants at Saiwa Swamp, Kenya, Africa. April 2011. The brown cluster represents a hundred or more separate maturing seeds each subtended by prickly, hooked sepals.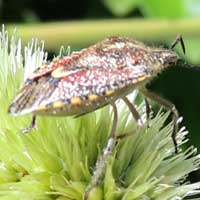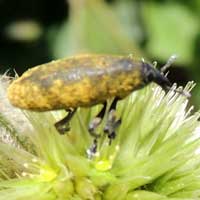 HERB: Herbaceous plant that developes many scrambling weak stems often forming a blanketing thicket up to two meters high and several meters wide.

FLOWERS: The flowers are scaly and very small and are borne in short, capitate spikes at the branch tips. Long spiney bracts occur with the flowers protecting the developing seeds and serving in dispersal by catching in animal fur.

LEAVES: Leaves are broadly ellyptical and have uneven surface between the veins.

RANGE: This plant and several similar species are native to tropical Africa. The species shown here was found near Kitale at Saiwa Swamp.

FRUIT: The developing fruits are clustered into a dense ovoid cluster. A single seed within each small capsule is further enclosed in group of spinaceous, hooked bracts. The hooked tips will catch in fur or clothing thereby serving to distribute the seeds to new habitat.

ARMED. The seed heads are rather unpleasant due to sharp bracts.
Bart Wursten, a developer of one of the most useful websites devoted to African flora, Flora of Zimbabwe, supplied the identification.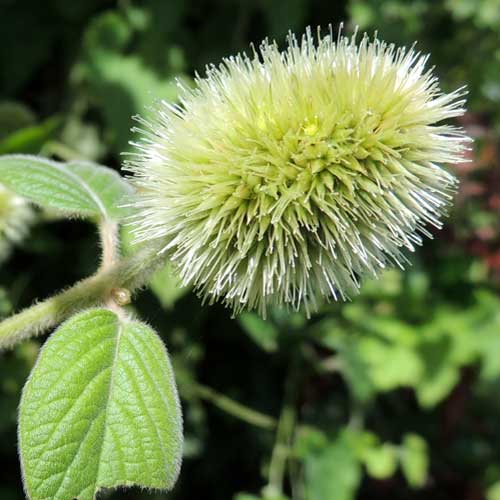 Another example from near Tambach on the Elqeyo Escarpment in December 2012 is still in the flowering stage; it will mature and likewise turn brown. At Tambach a Lixinae weevil was found that might use Cyathula as its larval host and a stink bug was found also feeding upon the developing seeds. Follow the thumb links at left for more information about these associated insects.
Amaranthaceae -- Amaranth Family

More Information:
Book: Upland Kenya Wild Flowers and Ferns by A. D. Q. Agnew, 3rd Revised Edition, 2013, Nature Kenya - The East Africa Natural History Society